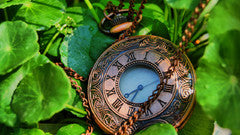 Nowadays, people of every age group, especially younger generations, are following the old trends. Pocket watches are also one of those old trends. Pocket Watches are personal timepieces that one can carry around a pocket.  
They sport traditionally analog displays and are strapless. You can secure pocket watches to waistcoat, lapel, or belt loop with the help of pocket watch chains. Most pocket watches are tailored to be worn in a jacket or waistcoat.
It also becomes an item for collectors in modern times. Its value also increases with time. There are various vintage pocket watches that you can avail of at our store, along with classy accessories.
Pocket watches are not as considerable as wristwatches, but still, many people want to buy these for their unique and elegant style. One needs to be different if you want to get noticed in the crowd. Just like that, Pocket watches stand out among all the watch trends.


Passed from other generations, Pocket watches are still a trend in today's fashion world. Not only for men, but pocket watches are also now available for women too based on their needs. You can choose from antique style, and modern style pocket watches. In antique-style pocket watches, you will get fewer designs as compared to the modern ones.
How Do Pocket Watches Work?
Pocket watches mainly consist of five major parts: a gear train, spring, clock face, balance wheel, and escapement mechanism. When a pocket watch is wound, then the mainspring gets compressed, and the mechanical energy created is used to provide power to the watch.
The Barrel is joined to the center wheel, which is further attached to the escapement mechanism. The Cannon Pinion helps to rotate the wheel once after every 12 rotations of the minute hand. Both the wheels are joined to the watch hands and going through the clock face.
Pocket watches will run on time for between 26 to 30 hours per wind, unlike other wrist watches. Some of the latest models of pocket watches run for 44 hours. Rotate the crown in the clockwise direction until it stops to wind the watch. After that, push the crown into its normal operable position.
Make sure to wind your watch at the same time each day. Setting and winding of the pocket watches should be done on a regular basis. You should not go over the wind, as it can damage the spring mechanism.