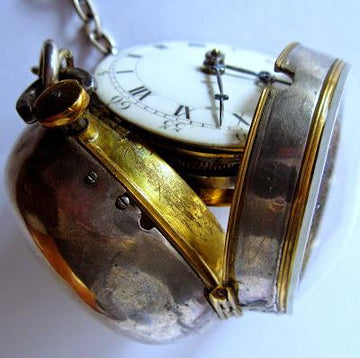 We know for sure that the first Pocket watches appeared in England in the year 1685. What is less clear is who was the first watchmaker to build it.

Two renowned London masters, Edward Barlow and Daniel Quare, claimed authorship and turned to King James II, to whom they presented two Pocket watches, so that he would recognize the author of the mechanism. The mystery of the coincidence remains, although the king chose Quare, and throughout his life, they will be accused of plagiarism.
In France, they certainly must not have liked this type of watch, since the first known examples coincide with the arrival of the two hands and are dated 1700, the Gloria a Rouen, the Rosseau a Paris, the Pierre Le Cat a Paris too (Horloger du Palais from 1688 to 1700) from the Diego Lido collection, and a few others...

The first known Swiss chime watch was made by the Geneva master Baptiste Doboule in 1645, although it is not a Pocket watch per se but a table clock, over 12 cm in diameter, which is currently owned by the British Museum in London.

The minute repeater was introduced in 1750 by Thomas Mudge of Geneva, although it was Louis Breguet who did away with the hammering of the springs on the cloche and replaced it with steel wires in the shape of circles that are housed around the entire inner perimeter of the casing, allowing for a clearer sound and taking up less space, a system that was maintained well into the 20th century.


The illustration above is a chime watch that indicates the days of the month as well with a double silver case, the outer or smooth bump and the clock openworked one with face, bird, etc. motifs.
Signed Windmills London - which was a father and son family business in operation from 1671 to 1737, enjoying royal patronage and with 10 officers in its workshops - his creations are currently spread across the British Museum, the Musée de la Chaux-de Fonds in Switzerland, the Science Museum in London, the Metropolitan of Art in New York etc. He was the keeper of the Tower of London clock for 30 years.

In the illustration below you can admire a clock made by PIERRE LE CAT, in 1699, horloger of the palace from 1688 to 1705, during the reign of Mary II and William III. It is one of the oldest known French carillo clocks.