Pocket Watch Blog
Get chained with the elegance of a Pocket watch
by scorpius channels on Feb 24, 2021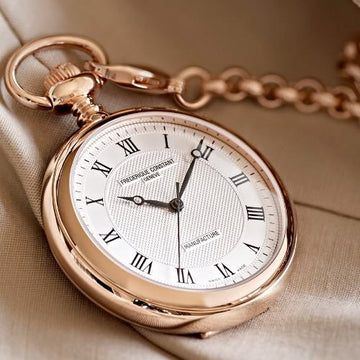 As the name suggests, pocket watches are designed to be carried in the pocket. It was invented in the mid of 16 century and was popular among the higher social status. Now, all the way from the 16 century to 21-century pocket watches have created a huge buzz because of their vintage and classy appearances. Pocket watch enhances the personality of an individual. 
There was a time when pocket watches got replaced by wristwatches, but now they are back and considered vintage. Pocket watches usually have a chain attached to them. Earlier it was worn upon the pocket of a waistcoat. It comes with a protective player, which prevents it from getting stolen. Various innovations were also introduced in a pocket watch like cigar cutters and vesta cases, making them multi-functional. These introductions were highly appreciated by the people. There were two basic styles of a pocket watch:
This type of pocket watch case lacks metal which protects the crystal. They have a thick glass and are comparatively less attractive.
Hunter faced pocket watches.
These types of pocket watches are fragile and thin. The glass used is convex and breaks easily, which is difficult to get repaired or either replaced.
Various other designs are also available in pocket watches like some have coloured dials and different chain patterns as well. Pocket watches are not only proposed for men; they were designed for women also. Some designs are specially customized for women. These watches were small and more attractive. Women can attach them with their purse or clutches as per their convenience. 
It is always said or asked, how are you different from the crowd? Having a pocket watch highlights you in the crowd, makes you more attractive than others, so it's the right time to update ourselves and adopt pocket watches in our lifestyles. Even on the simplest days when you don't carry much ornamentation, you can just carry your pocket watch and create a style statement.
The metal cover and chain pattern provide good ornamentation to the pocket watches, and there is no need for gems or any kind of stone to enhance its appearance. There are many colour variants available for the same. Some popular colour variants are as followed:
Rose gold

Chrome

Gold-tone

Sterling silver

Silvertone

Two-tone
There are many frauds selling normal watches in the name of vintage pocket watches at high prices. You should stay away from all these frauds. Look at the internet for the accurate price of the vintage pocket watch that you are going to buy. 
Condition:
As it is a vintage pocket watch, you should make sure that the condition of the watch is good. You are investing a lot of money in the pocket watch, so you should invest your money in a good place.
As these watches are very old, you should make sure that they are in the right condition. You should see that everything is working perfectly. The hands of the watch, the frame, everything should be in the right shape.
The best place to buy a vintage pocket watch
If you are searching for a good quality vintage pocket watch, they are the right place. Pocket Watch provides one of the finest vintage pocket watches. All the pocket watches are in good condition and available at an affordable price. For more information, contact us today!
References:
Watchuseek(Pocket watch collecting: How to get started?) Retrieved from https://www.watchuseek.com/threads/pocket-watch-collecting-how-to-get-started.4806509/
Monochrome(Is There Still a Place for Pocket Watches in the 21st Century?)Retrieved from 
https://monochrome-watches.com/opinion-is-there-still-a-place-for-pocket-watches-in-the-21st-century/