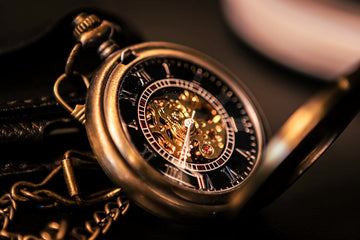 Pocket watches were introduced in the mid 16th century and were very trendy, but the demand fell down during world war 1 when wristwatches were introduced. Pocket watches were generally secured with a chain attached to them, which prevented them from being dropped somewhere and being lost. Instead of chains, sometimes short leather straps were also attached in some cases where long chains can be caught or not needed. Pocket watches can be antique and vintage additions to your wardrobe at the same time.
Nowadays, it has become a hobby of many individuals to collect different varieties of a pocket watch. The pocket watch can make your daily look simple, classy and elegant. Wristwatches too look good but having a pocket watch can make it look even more attractive and appealing. The vintage pocket watches are quite different from normal pocket watches. 
Vintage pocket watches are quite expensive, and the condition or appearance may look as if it's old but what vintage means is old. There are many fraudsters out there who sell normal pocket watches at the cost of vintage, so don't get fooled easily and cross-check the price twice on the internet. There are several varieties of vintage pocket watches available, not just the make even different brands as well.
In today's time, everyone is busy with their stuff and their lives and disconnected from history. In this modern technology-driven society, we have lost our elegance and style; however, pocket watches can help us in maintaining the connection with the past.
Pocket watches can add elegance and style to your appearance, nowadays every one of us has a habit of using our mobile phones for the same but using a pocket watch can tell others how precious our time is.

It doesn't matter where you are in town or at a meeting. Taking a

pocket watch

out of your pocket can catch the attention of the individuals present there.

Nowadays, pocket watches come with a clip attached, so you don't have to worry about getting them lost.

You can give it as a gift to someone and add a great value of personality to him/her. Therefore, you can give it to your dear friend as everyone has normal watches and this is unique and different.
Men can pair their pocket watch with a waistcoat, pocket watch chain draping from the buttonhole and going towards the other pocket feels very elegant and classy.

The common type of chain used is the T- bar chain, which holds the pocket watch in the safest manner.

According to your suits, you can mismatch the pocket watch as:

Blue suit - silver pocket watch

Light grey suit - silver pocket watch

Black suit - silver or gold pocket watch

Dark grey suit - silver or rose gold pocket watch

Navy suit - silver or gold pocket watch

Now you can easily pair a pocket watch with your waistcoat and look classy, elegant and be the centre of attraction.



References:

Levysfinejewelry(Antique Pocket Watches) Retrieved from https://levysfinejewelry.com/blogs/articles/antique-pocket-watches

Collectorsweekly(A Short History of the American Antique Pocket Watch) Retrieved from

https://www.collectorsweekly.com/articles/an-interview-with-antique-pocket-watch-collector-tom-mcintyre/