Pocket Watch Blog
Pocket Watches and the Steampunk Universe
by Le costumier De Bourges on Jul 09, 2020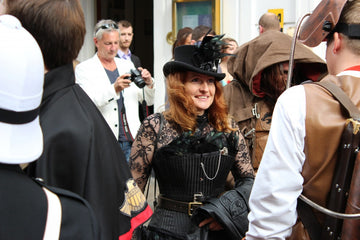 There is nothing like that ultimate feeling of satisfaction and peace of mind when you finally put a name on the object of your desires, on the exact piece of your wishes: a pocket watch! This chronograph is a Pocket Clock. It is a time measuring instrument with which you can move in any place and without difficulty.

The first Pocket Watch was invented already in 1508 by a German watchmaker named Peter Henlein. It was not until 1882 that the pocket watch finally received a proper update and was given the name "Gusset Watch" or "Pocket Watch". This name was given to the pocket or vest housing the watch, which is a small jacket pocket or waistcoat.

The pocket watch is the ultimate accessory in the Steampunk universe because it combines modernity, charm and classicism. Thanks to its half-modern, half-retro style, wearing this timepiece reflects class and aesthetics. This watch combines luxury, confidence, presence and subtlety. If you are looking to give yourself or someone else the most symbolic, attractive and unusual object, trust the Steampunk pocket watches with mechanical movement.

With their retro vintage style and the wide variety of watch models on offer, you will be pleasantly surprised and you are sure to find what you are looking for. If you want to know more about men's pocket watches or women's pocket watches, and especially Steampunk style, then you've come to the right place!


What is the Steampunk Look?
The Steampunk look is inspired by Victorian fashion which is reflected in the use of sophisticated clothing and accessories. Victorian fashion was first seen in the time of British Queen Victoria and had an impact throughout the 19th century. It appeared with the industrial revolution and distinguished workers from the upper class by combining luxury, aesthetics and technology. Victorian fashion revolutionized both women's fashion with new models of dresses and innovations in textiles as well as men's fashion.

It also had an impact on the field of architecture and decoration. The Steampunk look is fashion in a different way. Steampunk is a uchronic and retro futuristic trend that hasn't declined to this day. On the contrary, Steampunk is revisited in every era, in every change in every parameter and branch of fashion and adapts to it appropriately.


In the Victorian era, men's looks underwent huge changes and many improvements with the wearing of redingotes or riding coats associated with the wearing of accessories such as the pocket watch of Haute Horlogerie.

Steampunk pocket watches are watches that add a special touch to your clothes. You will find Steampunk men's watches in a wide variety of materials and designs, just like wristwatches. The Steampunk timepiece collections are carefully selected for the enjoyment of the wearer. They highlight the retro, antique, gothic and vintage side of the jewel. The Steampunk analog watch is made with meticulousness, tact and aesthetics to bring style to your outfits. It has the advantage of combining the elegance of the 1920s with modernity and contemporary design. It assures you distinction and class. Your style remains unique and inimitable.



Wearing Steampunk pocket watches

Adding a 21st century Steampunk accessory to your outfit commands respect, admiration and sets you apart. When we take a close look at the evolution of Steampunk accessories, we're just doomed to be admiring. We notice with evidence that they do indeed have the merit that has been given to them for several decades and since the time of King Charles II of England.

Steampunk accessories are present in fashion and go through each era and each generation while improving today more than yesterday. If Steampunk Pocket Watches and necklaces were once the preserve of a certain social class and sold at auction, today they are available for all budgets, but remain no less prestigious. The Steampunk fashion accessories are back in the shops and succeed in every occasion to meet the expectations of every fashionista and eventually make their way into his or her everyday life.


Wearing Steampunk accessories, and more precisely a beautiful Steampunk pocket watch, is, in addition to the elegance it reflects, a real testimony of the wearer's taste. It gives you style and presence at every occasion and inspires those around you.

Steampunk jewellery adapts to your look and your tastes whether you are a man or a woman. Steampunk Pocket Clocks are easy to wear, practical and trendy for men and women. The advantage with our Steampunk accessories is that nowadays, you don't have to dress in Victorian fashion before wearing them. Rather, you have the opportunity to reinvent your style with the uniqueness of these accessories.

A. Steampunk Pocket Watches for men

For you Gentlemen, it is placed at your disposal, a wide collection of men's pocket watches in gold, silver or bronze colour and in many other materials all as glamorous and interesting especially wood and stainless steel. The Steampunk timepieces are easily portable, because of the dials now reduced to between thirty and fifty millimetres in diameter and the long chains of about thirty or eighty centimetres.

So you can discreetly insert it into the inside pocket of your suit. You can hang it on your vest from the pocket or hang it on your belt as it was done centuries ago.

B. Women's Pendant Watches

For you ladies and girls we offer a wide range of Steampunk pocket watches that are not just time measuring instruments. Indeed, men's mistakenly believe that the Pocket Watch or Steampunk fashion is only for men: But no! For women and because of their strong sense of detail, we offer Steampunk pocket watches in pendant necklaces that are more than just watches, jewelry and fashion accessories.

The Pendant Watches are available in yellow gold, pink gold, white gold, and even silver colours. It takes care of your look by giving you the most enormous pleasure. Wearing these necklace watches makes a mix of the style of the eighteen-thirties with modern designs.

Types of Steampunk Pocket Watches
Pocket watches exist in two forms. On the one hand the mechanical pocket watch with power reserve and on the other hand the quartz watch with quartz movement. What is the difference between these two varieties of the same accessory?



A. The mechanical pocket watch


The Mechanical Pocket Watch is an instrument that is used to read the time but does not use a battery for its operation. The mechanical pocket watch with manual or automatic winding remains noble.

The first category of mechanical pocket watches is the manually recharged watch. It is the first in the history of these precious jewels. It is a model of antique watches. Nevertheless, mechanical watches do not give off any less charm. They are adapted to the style of collectors and those who know about them. However, amateurs are not left out. Buying a mechanical pocket watch is a sure way to get a little closer to the vintage style. Its use reflects belonging to a certain level, to a given social standing and is synonymous with sharing good social morals in certain regions.

Then there is a second tranche of mechanical pocket watches; the self-winding watches. This time, your self-winding watch recharges itself, thanks to an automatic movement powered by the gestures you make during the day after wearing it. It recharges itself without manual winding. You no longer need to press the crown before supplying power to the watch.


B. The quartz pocket watch


Quartz watches are quite the opposite of mechanical watches in terms of operation. It works thanks to a battery, a little like the common wristwatch. The small round quartz batteries are easily replaceable with an average operating life of two years.

The handling of these chronographs is less complicated than the handling of watches with mechanical movements. Quartz pocket watches are therefore suitable for everyone.
Why be interested in Steampunk pocket watches?


Steampunk pocket watches and pendants are real masterpieces. They are quality clocks that will initially play the role of the watch, that of telling the time. Then, they are fashion accessories made of top quality gemstones. They play to perfection the role of luxury jewellery or valuable accessories, especially those of high manufacture such as Baume Mercier, Omega, Fossil or Jaeger.



A. A Steampunk Pocket Clock as a family heirloom


Pocket watches are jewels that can be used by a person over a long period of time without the risk of going out of fashion thanks to their retro futuristic style. But moreover, they can be kept over several generations and constitute the noblest and most symbolic legacy over several generations. Indeed, they are  watches that can be passed on from generation to generation without the risk of altering the value of the property. 


B. A high quality Timekeeper


It is also rare to come across a poor quality pocket watch because the assembly of this type of watch is so delicate that either you know about it or you don't know about it. From the hand to the case, the watch is entirely made with subtlety and tact.
Each element is meticulously and ingeniously made, assembled and arranged to produce a stunning final result. The Steampunk Pocket Watches with complication; are the ones with a lot of functions. They tell more than just the time. 


Pocket Watches are luxury watches and accessories of the European watchmaking industry rich in history. They come in several models, including the skeleton pocket watch, the pendant watch, the self-winding pocket watch, the pocket watch, the fancy pocket watch and the quartz watches. They also come in different shades: black, gold, silver and with different metals; diamond, black copper, silver and bronze. The Steampunk Pocket Watches can be collected in the same way as wristwatches with steel bracelet or leather strap. Because they are suitable for all generations and all tastes, we invite you to explore through them the wonders of European watchmakers, modern and antique. Don't hesitate to try the adventure of the Pocket Watch; elegance, charm and luxury await you and take your time in choosing the right model.
Steampunk Pocket Watches