Pocket Watch Blog
Pocket Watches - Traditional Yet Classy
by scorpius channels on Feb 09, 2021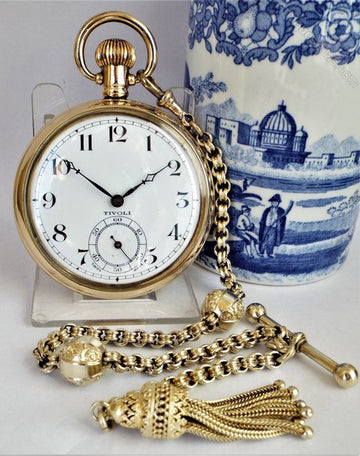 A pocket watch is a traditional timepiece that has its grace, or we can say that it magnifies the personality of a person who wore it. It is basically worn within a pocket. In this modern world, our new generation wants to try some unique fashion trends and wearing pocket watches is one of them. Pocket watches were a common type of watches in the back times. 
The perfect and traditional place to wear pocket watches is to your waistcoat or tie it with a chain or some other mix and match trend. It comes with a protective player that prevents it from being stolen. Some pocket watches come with unique designs like cigar cutters and vesta cases etc. These designs gave an attractive appeal and increased its usability.
If you are the one who always follows different fashion trends and always wants to look unique, then this thing is for you. You can get the best pocket watches only at Pocketwatch.net. 
Here are Some of the different Pocket watch styles
. 
You will get the two basic styles of pocket watches- the first one is the open-face, and the second one is hinged. Hinged watches are also named as Hunter pocket watches. The watches with the hunter case are fragile and thin. The glasses can be convex. If the glass breaks, it is difficult to replace the glass. It is quite fragile.
Open-faced watches don't have a cover. The dial of the watch is covered with comparatively thicker glass to Hinged pocket watches. It is a less stylistic choice for the people as it gives an outer edge to the dial.
You can find some variations in these styles, like some watches will have painted dials or have different chains. Not just gents, even ladies can follow the trend of pocket watches. There are some designs that are specially tailored for women. 
Women's pocket watches are more beautiful and are small in size. This is an innovative idea in the customizing world of pocket watches. Ladies can attach these pocket watches with their purses and or clutches as per convenience. You can find these beautiful ladies' pocket watches at the jewelry shops or at Pocketwatch.net. These watches are considered as a great fashion icon.
How To Buy these Pocket Watches?
Pocket watches stand out among all the old trends of wristwatches. If you want to get noticed in the crowd, this is the right time to get updated and pick up the unique trend of pocket watches. 
While buying pocket watches, you should be precise enough to your choice that you want a new watch or antique watch. We have a wide collection of watches. You will get a lot of options, and you can choose from them as per your preferences. 
Along with the pocket watches, watch accessories are also available. You can go through the various features before buying them. You will get quality watches, so no need to worry about anything. You can visit our website or give us a call to know more about pocket watches. 
References:
luxe.digital(How To Rock A Pocket Watch In 2020)Retrieved from 
https://luxe.digital/lifestyle/style/best-pocket-watches/
Quillandpad(The Current State Of The Pocket Watch: It's Better Than You Might Think)Retrieved from  https://quillandpad.com/2019/04/02/the-current-state-of-the-pocket-watch-its-better-than-you-might-think/