Pocket Watch Blog
Three Reasons to Collect Pocket Watches
by Le costumier De Bourges on Feb 05, 2021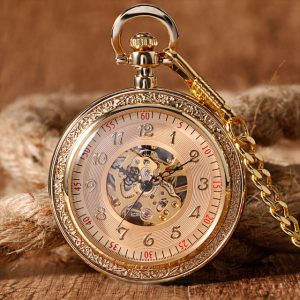 In the current time, pocket watches are trending a lot. These watches are considered one of the most sophisticated timepieces that are ever made. Pocket watches are with us from a very old-time and are connected to our history.
This is the reason why having several pocket watches in your collection can be a fun experience. Today let's discuss the top three reasons why you should consider collecting pocket watches. 
So, Let's Dive in:-

Affordability of Pocket Watches
If we compare the price of a high-quality wristwatch and a high-quality pocket watch, you'll notice that the pocket watches are considerably cheaper than wristwatches. This shows that pocket watches are less demanding on the financial end.
There are some pocket watches that cost more than $15K. However, generally, pocket watches are cheaper than other types of timepieces.
Therefore, if you are considering collecting timepieces but don't know which timepiece to pick on the basis of price, then you should definitely go with high-quality pocket watches. 

Usability of Pocket Watches 
Pocket watches are one of the most used timepieces from some centuries. However, pocket watches that are mechanical are not shockproof or anti-magnetic. 
Moreover, you can carry a vest or a coat to properly carry your pocket watch. You just need to clip the chain of your pocket watch on the pocket of your vest, put the pocket watch in the pocket, and you are good to go. In addition to this, a pocket watch can also be used as a fantastic desk clock.  
However, you need to break the habit of automatically glancing at your wrist each time. Moreover, checking the time with the help of a pocket watch is not an automatic decision. Therefore, you have to get used to this practice in order to use your pocket watch every day. Pocket watches can take a while to get used to. However, if you get used to it once, then you'll love the elegance and style it provides to you.
Satisfactory Nature of Pocket Watch
The amount of satisfaction that you get after taking out your pocket watch is unmatched. No matter how expensive your pocket watch is, the pocket watch can beat it with style. Your pocket watch will make you feel as if you have a presence and are a high-status personality. Moreover, a pocket watch can make you look as if you're a wealthy man who has great taste. 
Other than this, a simple act of checking the time through the pocket watch is a greatly satisfying experience. Feeling the weight of the watch and the polished metal in your hand is very pleasant. This feeling of satisfaction is one of the most impactful reasons why you should collect pocket watches.
These are the top three reasons why pocket watches are considered one of the best types of timepieces. Moreover, now you would also be knowing that collecting pocket watches is best for you. 
Where to buy High-Quality Pocket Watches?
If you are looking for collectible pocket watches, or simply a high-quality pocket watch, then you are at the right place. We offer you high-quality pocket watches at a very affordable price. So now you can also collect or buy beautiful pocket watches. Just Contact Us today!
References:
Catawiki (Why You Should Invest in Pocket Watches) Retrieved from https://www.catawiki.com/stories/5681-why-you-should-invest-in-pocket-watches
Homes and Antiques (What to look for when collecting pocket watches) Retrieved from https://www.homesandantiques.com/antiques/collecting-guides-antiques/collecting-guides/how-to-collect-pocket-watches/