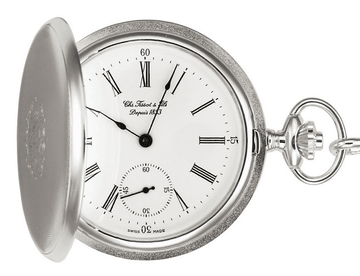 Pocket Watches goes way back in the '90s, and they are back with a bang! It is brought back in the 21st Century by the influence of the older styles but in a traditional way. You can easily spot more and more people styling their overall look by adding simple yet elegant Silver Pocket Watches. 
There are many types of pocket watches that can be found in the market, like beautiful and portable timepieces, some are covered in jewels, and they have unique designs, and some are even laced with intricacies. So, everything just boils down to one thing that they are not like your regular watch. They require more care as they can be clunky and robust.
Therefore, you need to know how to make the best use of your pocket watch, which will act as a big statement on your next occasion! But first, let us discuss its history and its real importance.

Silver Pocket Watch History


Silver Pocket Watches were first introduced in the 16th Century for gentlemen so that they can display their wealth and also add a portable watch into their fashion.
Pocket watches eventually became a matter of 'Status Symbol.'
The poor people weren't left behind, but their pocket watches were made from cheap material and were simply common. Their wealth was defined by the amount of Gold and Silver used in the handicraft.
With that being said, the most important question arises that 'How To Wear A Pocket Watch In Today's Styles'? Well, there are many you can accessorize your wardrobe with a pocket watch, and today, we will discuss all the styles available accordingly.

Pocket Watch + Jeans
There are many reasons why people choose Pocket Watch with jeans, and one of them is they can easily fit in your pocket and slip into the trousers. Jeans are considered as a cool outfit and give a semi-formal look. They will never go out of fashion, and adding a Pocket Watch to it brings 'Old School' vibes in you. 
To add a formal look to your personality, you can wear black jeans or trousers with a pair of Pocket Watch. You can easily win this combination if you put on tanned brown shoes anywhere.
Suit + Tie + Pocket Watch
If you are going to a formal occasion and want to dress elegantly and bring that flashy side of you, then adding a dapper suit with a tie clip and a pocket watch is a go-to style for you.
Tie clips are usually worn between the 3rd and 4th buttons of your shirt as a part of a decorative piece. It adds a professional look and looks outstanding with the pocket watches as both are made of metal. These types of accessories also act as a great source of a conversation starter.
Pocket watches are not just for formal occasions or fancy parties; they are meant for any occasion if you have just the right knowledge and accessories to pair it with. They can easily add rare and modern energy to your entire look.
References:
Smithsonianmag(The Pocket Watch Was the World's First Wearable Tech Game Changer
) Retrieved from https://www.smithsonianmag.com/innovation/pocket-watch-was-worlds-first-wearable-tech-game-changer-180951435/
Worldtempus(Is the pocket watch back in vogue?) Retrieved from http://en.worldtempus.com/article/watches/trends-and-style/pocket-watches-is-the-pocket-watch-back-in-vogue-20223.html
Silver Color Pocket Watches