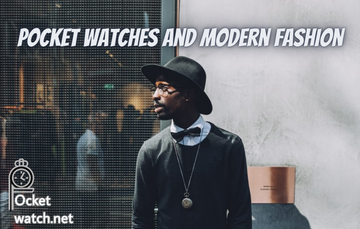 It would seem that pocket watches are a relic of the past. After all, now there are much more comfortable wrist mechanisms. Similarly, paper letters or dinner by candlelight can be called a relic of the past. But can an ordinary light bulb replace the aroma of burning wax and the glitter in the eyes, which becomes the most sincere in such a light? Or maybe the email will smell like the perfume of a loved one? Of course not. Likewise, a pocket watch will never go out of style. These are exactly the accessories that stand out for their unique charm. You can complement your look with an old antique piece that you inherited from your grandfather or buy a new stylish pocket watch. In any case, your choice will become noticeable and unique.
Pocket Watch in the Modern World
If you ask how best to wear a pocket watch today, you will not get a single answer from anyone. The main thing is that your solution matches the general style that you are trying to create. Moreover, modern fashion offers so many alternatives for the chain that pocket models become an attractive accessory for jeans lovers, women in sheer chiffon skirts, and leather wardrobe lovers.
Pocket watches are a unique phenomenon in the modern world. They are worn in bags, trouser pockets, jackets, or coats. Such watches allow their owners to demonstrate to others a sense of their superiority, status, and wealth. Pocket watches are also the epitome of grace and sophistication and are often used by influential people.
People who want to buy pocket watches can choose a model for themselves in the modern market. These watches use all the advanced technologies and can withstand the rhythm of modern life. Bring a little antiquity to your dressing style by wearing a pocket watch rather than a wristwatch. Using the watch chain, you can wear it in a vest or on a belt.
Versions of Pocket watch
Pocket watches have two especially widespread versions:
with an open glass of the dial,
and with a cover covering the glass, attached to the body of the watch with a loop at the IX o'clock region. 
An antique pocket watch had a key for winding the movement, but now, for the watch to continue to function, a crown is installed on it (of course, if the watch is mechanical).
Despite the advances and technologies used in watchmaking, traditional pocket watches are still the most common because of their classic beauty compared to other models. If you want to distinguish yourself in terms of style, then a pocket watch is the perfect accessory that will indicate a connection with the past. But be prepared for the fact that at the moment, when you look at a pocket watch, people will have questions, criticism, comments on the appropriateness of using such a watch. Some people use pocket watches to show their originality, but most people appreciate the unique classic design.
Knowledge about Pocket Watches
Also, pocket watches are great collectibles. If you are a collector, you must have sufficient knowledge about watches, know the manufacturers, serial production, uniqueness to determine the exact value. Otherwise, you will pay more than pocket watches are actually worth.
You can find a pocket watch that suits your liking in many watch shops around the world. These stores will offer you a wide variety of types and styles of watches in different price categories, which will undoubtedly make the buying process pleasant and easy.
Wear a pocket watch, don't be afraid to surprise, keep track of the time.
Visit our store to buy an attractive pocket watch for you!
Modern Pocket Watches
Also Read: