Pocket Watch Blog
Will Pocket Watches Ever Come Back?
by scorpius channels on Feb 25, 2021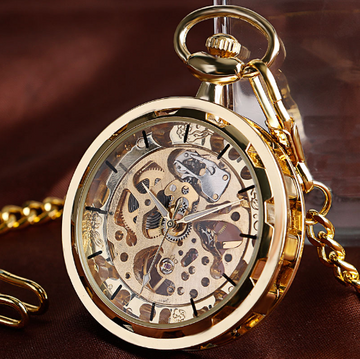 Have you ever watched a classic Hollywood movie from the '90s? If you did, it is more likely that you might have noticed the gold, silver or bronze ornament hanging from their vest or waistcoat. Yes, it is a Pocket watch that used to be a significant flex during the 19th century.
Pocket watches were considered as a status symbol and essentially were worn only by nobles and wealthy people. They are antique pieces and grew to gain popularity after World War 2.
But by the passage of time, they were purchased by the collectors only at auctions. They are back in trend, especially for five years, and all the famous watch brands and timepiece makers from Switzerland have started manufacturing it. 


There are many types of watches like sophisticated, extraordinary and modern, which can be paired with many different types of styles. Three-piece suits are the most common ones and classical—big Hollywood celebrities like Johnny Depp and Justin Timberlake.
So let's dive into the Pocket Watch history and its significance in modern times.

History
The most famous and prominent feature of the pocket watches was its Religious beliefs towards it. One of them is that the French priests were considered to be the inventor of these mechanical pocket watches, and it reminds you of the punctuality onwards of gods for the morning prayers and other spiritual ceremonies. 
So, eventually, this beautiful work of art became more than just an instrument. The production of pocket watches started around the 13th-14th century in the European monasteries. Gradually, they turned into clock towers with the sole purpose of demonstrating just the hour.


In this article, we will discuss the development of clock towers to pocket watches and if they will ever come back into fashion. 


Men's Fashion


The Panerai Pocket Watch is black in color and dazzles every time someone wears it. Pocket Watches 3 Days is another famous brand among the most elegant and versatile watches in the world for five years. It features brown straps and a case made up of rose gold.
The way it's designed is loyal to its roots from where it emerged and is a classic accessory for your wardrobe. It was designed in 2013 by Parmigiani. Whereas the Longines, which is another famous brand, was designed in the Chinese year of the horse in 2014.
One of the most astonishing watches from the year 2017 is HYT. The thing that defines its uniqueness is its fluid dynamics, which demonstrates its time, unlike other watches that use hands. It features a LED night vision light system and is an Advance prototype. These types of watches are both aesthetic and assertive, which enhances the overall look of the person wearing them. Its case is made up of titanium and has more than 80 miniature elements.
Pocket watch manufacturers often include meticulous and rare ornaments in their new watch models to increase its value and influence in men's fashion. So, if you are fascinated by the new Pocket Watch trends in the men's fashion industry, then you can easily get knowledge about that by visiting our website.

References :
Skylife.com( The Wonderful Comeback of Pocket Watches)Retrieved from https://www.skylife.com/en/2017-04-business/the-wonderful-comeback-of-pocket-watches
Boatinternational(Pocket science: How the vintage pocket watch became cool again) Retrieved from https://www.boatinternational.com/luxury-yacht-life/lifestyle/pocket-science-how-the-vintage-pocket-watch-became-cool-again--38941