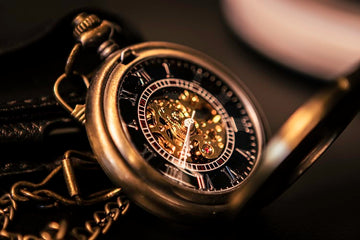 Watches firmly occupy the niche of an irreplaceable accessory, which some wear for a practical purpose, while others simply as a stylish piece of jewelry. Among many models, the pocket watch on a chain deserves special attention. Appearing at the turn of the 17th and 18th centuries, they were considered a sign of luxury and a special social status. But you need to know some rules before buying such watches and their chains.
Buy a Pocket Watch
If your family does not have such an inherited heirloom, then buy your own pocket watch. The modern variety will allow you to choose the watches that you like the most in terms of style and metal from which they are made.
Choose a metal
Silver is the preferred choice for buyers these days, as its shiny surface matches any costume. Other popular metals include copper or bronze, gold, steel.
Consider the details
One can find both the simplest ones with a smooth lid and richly decorated with finishing materials among pocket watches. Also, watch cases are often decorated with engravings in the form of patterns, monograms, or images of the forest - this adds uniqueness to your look.
Choose between new and used watches
Each option has its own advantages.
The new watches have a more reliable mechanism that will last incomparably longer and are made according to the latest fashion. On the other hand, they will cost you much more than an old watch.
Old watches have a wide variety of designs, ornaments, and decorations. In most cases, used watches are cheaper than new ones, but prices can change dramatically depending on the collectible value of the device. Do not buy old watches over the Internet - so you will never guess how reliable their mechanism is, or what their exact size is.
Buy a chain
The chain has two main functions: it attaches the watch to your clothing so you don't drop it on the ground and complements the pocket watch's look.
Start simple
Usually the metal of which the chain is made should match the metal of the watch: if you have a silver watch, choose a silver chain, etc.
You and only you determine the weight and weaving of the chain. For appearances, a thin, elegant chain is more suitable for you; denser and stronger, on the other hand, will last you for a long time in all your adventures and during hard work.
Make sure the chain you choose can support the weight of the watch if dropped.
Use a strap or keychain
If you plan on wearing your watch in your pants rather than your breast pocket, consider using a leather strap or a dedicated keychain instead of a chain. They tend to be more durable and offer a less graceful, more casual, and casual look.
You can also buy a leather holder: it attaches to the strap and holds the watch much more firmly compared to its free position in your pocket.
Build a collection
In the end, a set of several chains and straps will allow pocket watches to complement images of completely different styles.
Consider breaking with tradition and choosing a chain in contrast to the watch. Like a key chain, a chain in a different color will accentuate the watch and the metal it is made of, making the jewelry stand out.
Please note: even an unsuitable chain should look like a natural extension of the watch, not a random increment. No matter which choice you make, the watch and the chain should look great together.
Choose your style
A pocket watch is a rather old-fashioned accessory, but it can be worn in many different ways. Here are some of the main options to look out for:
Wear the watch in your vest pocket for an old-fashioned look. The chain should be fixed to the button of the vest, and the watch itself should be put in the pocket with the dial facing you so as not to make unnecessary movements and not turn the accessory in your hands, wishing to know the time.
If you are right-handed, the watch fits in the vest's right pocket; if you are left-handed, fix it in the left. This allows you to leave your working hand free while pulling out the watch to check the time.
Wear your watch in your trouser pocket: unnoticeable most of the time, it will immediately grab everyone's attention as soon as you get it. The strap is fastened to the belt by the loop, and, as usual, the watch is put into the pocket with the dial facing you.
This style is more suitable for watches with a large dial, as the length of the strap will not allow you to bring them close to your face.
Pocket watches have never been the preserve of wealthy people, although this is how we see this accessory today. However, there were times when any man whose job required a precise timetable wore a pocket watch. So, try to recreate an unusual retro look by combining a pocket watch - in this case, the watch goes into the front pocket.
For this option, a heavy, almost coarse, durable chain must be matched to the watch. After all, a work suit is also made rougher than an evening dress and is designed for continuous and sloppy use.
Complete the look with a casually unbuttoned work shirt, a newsboy cap, and heavy work boots.
Since a pocket watch is a statement of your position, you can use it as a useful attribute for a themed costume - one that would emphasize your status in society.
Buy an unusual chain or keychain that would make your watch stand out as an independent element of your costume.
Whereas pocket watches usually symbolize wealth and conservatism, try

wearing it in the pocket of a denim vest

- part of the punk look - for a powerful argument against the standard view.
A pocket watch is a classic and impressive accessory for any steampunk costume. Again, wear them strapped to the button of a vest or shirt to add a finishing touch of old-fashioned accessory to your outfit.
Today, despite some modifications and an updated approach to design, the first thing that comes to mind at the sight of such products is the classics and aristocracy, which, of course, delights and attracts the attention of others. Moreover, it is inherent not only in men but also in many modern women.
Women's Pocket Watches on a chain with an open dial are equally popular. They can act as an exclusive decoration or be used for their intended purpose. A modern design or an antique model can add charm and charm to a fragile feminine image.
Visit our store for the latest pocket watch designs and accessories.