Pocket Watch Shopping Guide
Pocket Watches Gift - A Sign of Excellence in Quality And Craftsmanship
by scorpius channels on Jan 24, 2021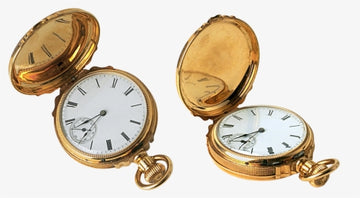 An extensive range of pocket watches is available for a person who needs a watch with both stylish and handy features. Pocket watches are very capable and sturdy in this modern world. By wearing these watches, you can bring antiquity in your fashion sense as compared to other watches. You can wear these pocket watches on your belt and vest as they have chains along with it.
Pocket watches come in a well designed and unique form. A key winding tool is used to operate old pocket watches, but now there is no need for this device. Pocket watches are graceful and can be worn in several ways like through buttonhole chains and belt clip chains.
These days, selecting the best pocket watches can be a tough task to do. There are some people who choose modern style while on another side some prefer the antique style. If you choose an antique style, then you don't have the option to choose design and style like modern style consists.
Pocket Watches As A Gift:
Pocket watches are the best gift choice, as it is elegant and unique. It is historically notable and also very popular in the watch world. You can give pocket watches to your employees if you are a business owner as it will help them in future. It will help to maintain a good and positive relationship between you and your employees. 
These watches are still on top as they have that classic look which is unmatchable. These watches are the best option to give to old age people who love antique watches. Pocket watches are surely an enjoyable and fun device to choose from. The magnificent craftsmanship that was needed to make these beautiful and unique timepieces is clearly seen in these watches.  
Some people are fond of antique things, so it can be a great opportunity for you to give them antique pocket watches. They will be happy by getting these types of presents. These watches are something that can't be bought easily as these are considered as luxury items. Pocket watches are the best and unforgettable gift that you can give to anyone.
Most of the mens love to wear these watches at parties and other occasions. These watches give a gentleman look and enhance the overall look of a person who wears it. For groomsmen, sometimes pieces of jewelry are considered as top choices. You can begin with necklaces, anklets and bracelets that can be given as personalized gifts. One of the best choices is a vintage pocket watch if money is not your issue.

From Where You Will Get These
We have a huge range of watches so you can search for your favorite one here. We have the best style and design available for you. You can choose according to your taste and preferences.
Lots of features and designs you can see in our collection of pocket watch accessories. These watches are easy to carry and give a beautiful look when you wear them. Contact us today and check out our website to get the best pocket watches. 
References:
JSTOR(The "Very Delicate Construction" of Pocket Watches and Time Consciousness in the Nineteenth‐Century United States) Retrieved from https://www.jstor.org/stable/10.1086/651538?seq=1
Catawiki (Why you should invest in pocket watches) Retrieved from 
https://www.catawiki.com/stories/5681-why-you-should-invest-in-pocket-watches