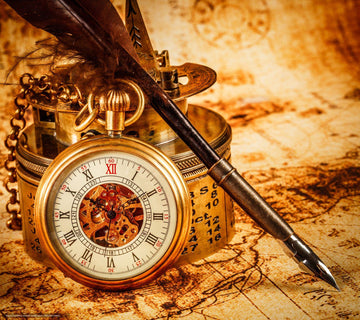 Nowadays, you will find several pocket watches which look elegant and functionally modern. Also, you will find the latest brands and styles in pocket watches. These watches are very durable and give a classy look. Moreover, these watches are available in different styles and designs that you can easily pick from. The pocket watches that are made from silver, brass and gold are the most popular varieties of pocket watches these days.
The pocket watches are easily available both at clock shops, local jewelry shops and online. For a well-dressed man, the pocket watch is a really fashionable thing to wear. These watches are designed with precious metal and gold that look really attractive. Moreover, it comes with a beautiful chain that you can attach to your suit pocket with no fear of dropping.
A pocket watch is a unique and beautiful timepiece which is carried in the pocket of one's coat and jacket. Pocket watches look great when you wear as it enhances the grace of clothes that you wear.
Where To Get The Best Pocket Watches
These days most of the watch companies provide the best and latest branded pocket watches. However, it can be difficult to choose the best. Always look for the one who is experienced and create the best quality watches. We are well-known manufacturers, and all the pocket watches that we have are 100% genuine. 
For over thirty-five years, we have been in this profession, so we know the value and quality. You don't need to worry about the guarantee as we have branded and latest collections of watches. You can give these watches as a gift as these watches are elegant and classic.
Some Features Of Pocket Watches
Pocket watches give a very simple to read look and have Arabic markers which are easy to follow. Now you have a huge collection of antique and

digital watches

to select from. They give great quartz movement.
Pocket watches are really comfortable to carry. You can give these types of watches to your beloved friends, family and other people who wear formals and always prefer classic gifts. These watches look great with suits and enhance the look and personality.
These watches are easy to hang, as they have a safety clip that is very safe and strong. In addition, pocket watches come in silver, gold and brass, which look great when you wear it.
Pocket watches are appropriate for all age people but mostly for old age and adults who are always in well-dressed form.
We have the widest range of pocket watches that you will get at affordable prices. We have different types of brands and the latest stocks of pocket watches and digital watches. You can see all the features of pocket watches before making any decision. 
Apart from pocket watches, you can also try our collection of digital watches that are very easy to use. We give top quality products with guarantee, so you don't need to worry about anything. Contact us today and visit our store to get the best and branded pocket watches.

References: 
Wornsimple (The Best Pocket Watches for Men for a Classic Look) Retrieved from http://wornsimple.com/best-pocket-watches-for-men/
Fashion.luxury (Pocket Watches: A Timeless Classic) Retrieved from  https://fashion.luxury/jewelry-and-watches/pocket-watches/